Pitt Business just felt Right.
From Salesianum School to Pitt Business
with Daniel Schlegel
Decision time.
After deciding to major in business, I thought it was best to attend college in a city where there are more opportunities for experiential learning and internships.
When it came time to make a decision, I had narrowed it to three universities. I liked the different aspects of all three schools.  However, when I visited Pitt, I instantly felt at home and could see myself there for the next four years.
Pittsburgh has always felt like a second home. My dad grew up in Penn Hills and his extended family remains in the area, so we visited for holidays and I grew up a Pittsburgh sports fan. Still, I didn't really know much about Pitt until I visited the campus and it just felt instantly right.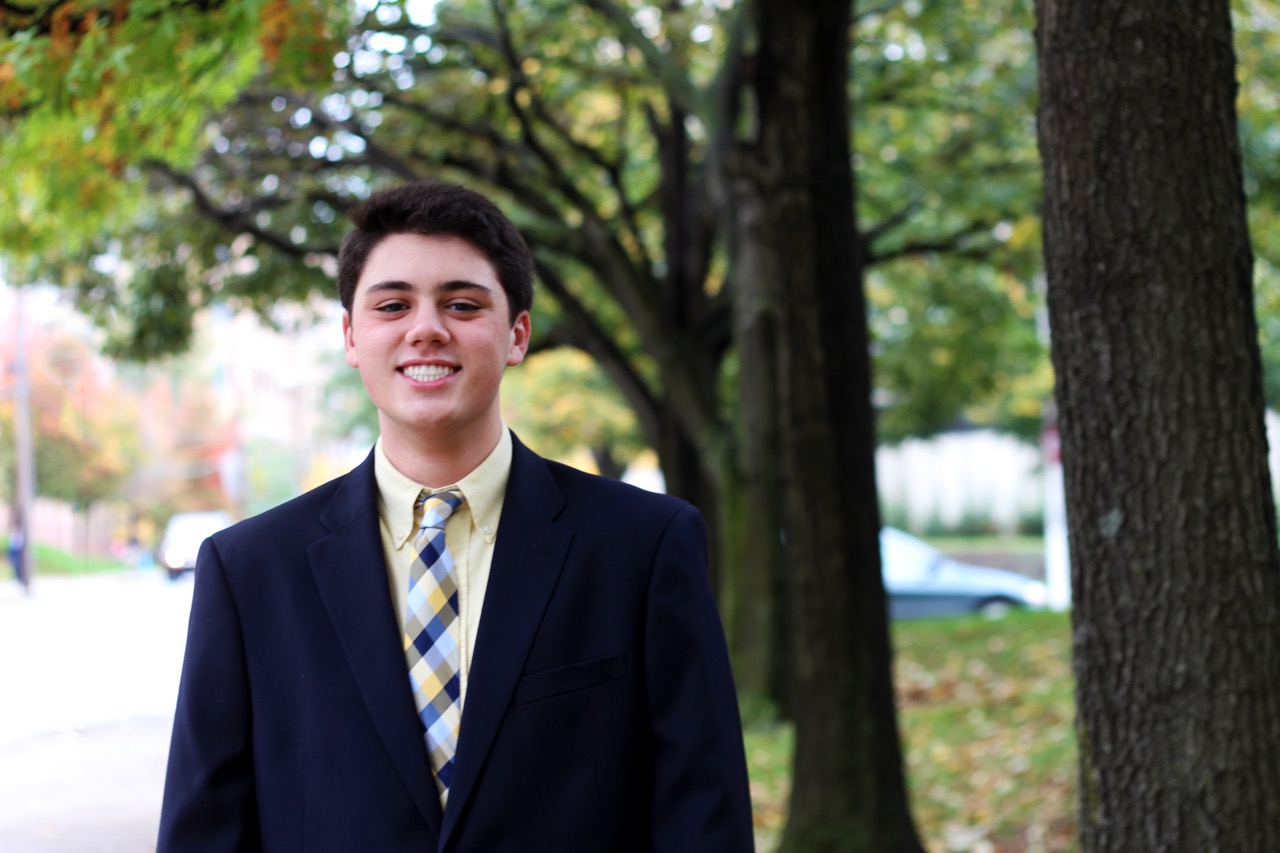 During my freshman year, I lived in Bruce Hall – the living-learning community specifically for Pitt Business freshmen. An advantage of the LLC was that I was immediately surrounded by exceptional classmates and opportunities for engagement outside the classroom. One of my earliest memories at Pitt Business was a site visit during orientation week to ALDI, where they discussed their internship program.
At the activities fair the following week, I was persuaded to take part in the AmeriCorps Jumpstart program. The program aims to help close the kindergarten readiness gap by placing underprivileged preschool children with college-aged students trained in early childhood theory and practice. I got involved and had the rewarding experience of serving as a mentor throughout the year to three children at a preschool in Mount Washington.
Later on in my first semester, I joined the Alpha Kappa Psi Professional Business Fraternity.  As a Pitt Business student organization, AKPsi offers opportunities for professional development, networking, and service. The pledging process throughout the semester taught me many valuable 'soft' business skills and assisted with the development of my resume and ability to network.
At the beginning of my sophomore year, I was also given the opportunity to be part of the University of Pittsburgh's team for the Deloitte Audit Innovation Campus Challenge (AICC). Throughout this case competition, I was exposed to executives at Deloitte, business faculty, and thought-leadership on relevant topics, and assisted by faculty from the University. Our six-person team flew out to Minneapolis to present our final solution to a panel of judges.
Study Abroad.
Through the Plus 3 program, I studied abroad in Germany after my freshman year. I actually received a scholarship for the program as part of my acceptance to the University of Pittsburgh. I decided on the program in Germany based on my interest in the automobile industry and my family heritage in the country. The experience was overwhelmingly positive. We traveled to Ulm, Augsburg, and Munich and saw each part of the automobile manufacturing process, from forged parts to a final assembly at BMW. Easily the wildest part of the experience was witnessing a robot building other robots at KUKA. The trip reinforced and recommitted me to my business studies as I entered my second year at Pitt.
Internships
One of the greatest advantages of Pitt's location is access to internship opportunities.  As a Pitt Business student, I have been able to gain a wealth of internship experience.
During the spring semester of my sophomore year, I worked as a personal lines intern at Henderson Brothers, Inc., a regional insurance agency located in downtown Pittsburgh.  Through that position, I gained exposure to client generation, market research, and the insurance industry at-large. I also was able to work with their Private Client group, gaining insight into how they interacted with high net worth clientele.  Henderson Brothers provided a strong primer on the insurance industry and professional business environment, setting me up for success in my later internships.
After my sophomore year, I worked with PNC Bank as a retail banking intern in downtown Pittsburgh. I worked directly under a business analyst in their Project Management Office, focusing on projects in Excel and process mapping. As my primary capstone 'intern project', I worked with another intern to research a solution to increase their forecast models for new retail initiatives. The internship provided a broad look into the financial services industry as a whole. I liked that my work was often big picture yet detailed, and I appreciated the variety of opportunities that I received.
After my junior year, I spent the summer as a Consulting Intern with Protiviti.  This experience provided the opportunity to learn across a number of different engagements. I was exposed to their practices in Internal Audit and Financial Advisory, Risk and Compliance, and Security and Privacy. This broad exposure was truly valuable. This experience helped me realize that accounting with a primary focus on financial services would be the best fit for my future career. 
My Future is at EY
My last year at Pitt has felt incredibly full circle. Just keeping in mind how little I knew when I came to the school as a bright-eyed freshman in 2016, it has been a great opportunity to pass down my knowledge and experiences to other students by working as a professional development consultant. An especially surreal experience was taking a group of Bruce Hall freshmen on a site visit to Schneider Downs their first week, as I still can look back and reflect on my own experience on my first site visit at ALDI.
In terms of my search for full-time jobs, I focused on public accounting firms since I will be graduating with 150 credits and pursuing my CPA after graduation. After interviewing with a number of firms, I was fortunate to have several offers. I am happy to say that I accepted a position with EY as a Business Advisory Consultant in Pittsburgh. The position at EY offers an excellent opportunity to leverage my past experiences, gain strong experience working in financial services, and pursue my interests in finance and accounting. The culture and fit with EY feel nothing short of perfect, and I am excited to get started after graduation in the spring!